Hi Reader,
I hope your week is off to a good start! This is a special Monday edition of the newsletter. This weekend, I was at an art event in Salem, OR.
Here is a recap.
Salem on the Edge - Plein Air Invitational
The 17 invited artists submitted one painting in advance. Then on Saturday, we painted on location in the downtown area, including the state capital building and Riverfront park, and turned in our 'wet painting' before the evening reception.
On Saturday morning, I found a shady spot to paint with a view of a beautiful church spire. The First Methodist Church was built in 1878. The steeple makes it the tallest building in Salem. (How many state capitals have a church as the tallest building?)
​
My most significant decision was about value. You can see the sky is close in value to the light areas of the buildings, and of course, the steeple is white. To make it easier, I painted the sky much lighter in value and use a slightly darker value for the church spire.
I also chose to keep the foreground nondescript, almost undone, because adding detail could have led to the undoing of the whole painting!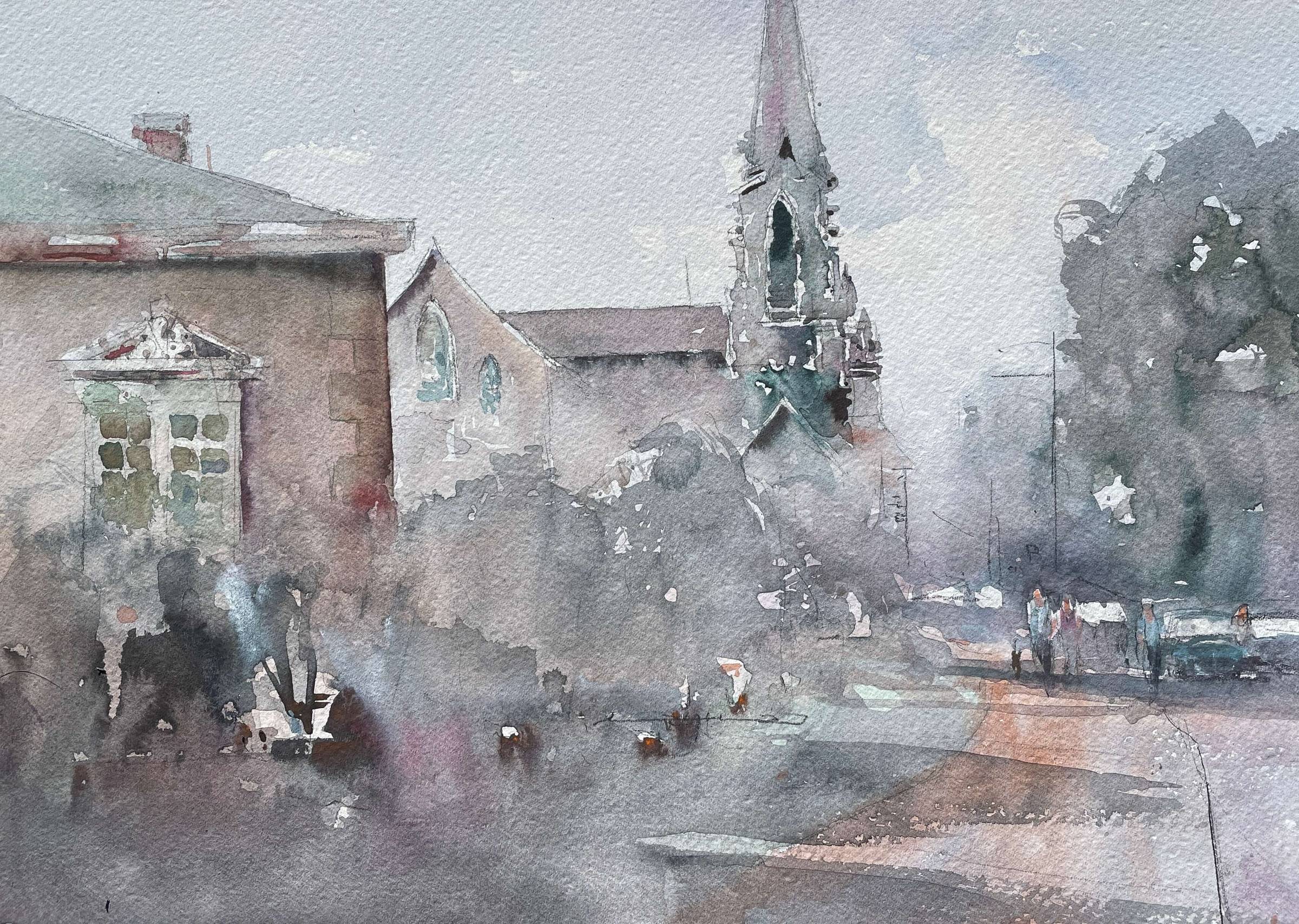 ​
Painting is a series of decisions. When you can, choose to push the Easy Button.
Here are a few choices that simplified my day.
Chose a quieter street over one with more traffic

Selected a spot with consistent shade

Did a thumbnail sketch

Worked on pre-stretched paper

Painted a light background rather than negative painting around a white steeple

Used a limited palette

Left out details

Took breaks to drink water and eat
Even with these choices, painting at an event is nerve-wracking. My texts to Nick are proof.
10 AM: Found a spot with shade.
11 AM: Now I just have to finish it without messing it up.
11:45 AM: I'm almost done but I'm stopping for lunch.
1 PM: I think it's done enough. I'm not embarrassed by it so that's good!
​
​
​
The exhibit continues through August 27 at Salem on the Edge. A big thank you to Melanie, the gallery owner, for inviting me to participate and for hosting such a nice reception.
On the drive home, I listened to the Art2Life Podcast Episode 41, The Art Fight. I laughed out loud when Nicholas said this.
---
"I've stood in front of paintings my whole life, and I don't know of another activity that I do with some regularity that I feel so clueless."
-Nicholas Wilton
---
I can sure relate!
Have a wonderful week,
Vinita
​
​
​
​
​
​
​
​
​
​
​